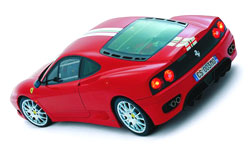 Car related websites:


The biggest Ferrari forum and community
International forums, model specific discussions (including Vintage!) and general Ferrari discussions
AutoGespot.com - The exclusive carspotting website
Always the newest exotic cars, daily news and the
rarest supercars are highlighted
FerrariLife.com - Ferrari community and buyer's guides
The Ferrari forum for enthousiasts about modern, classic and vintage Ferrari's! Also buyer's guides, registries and more
PistonHeads.com - cars for sale, car news, motoring forum
PistonHeads is a UK based car website with cars for sale, car news, car events and one of the largest car related forums
Ferrari-World.be - Ferrari VIN's and events
Ferrari website with VIN's, photos of events, trackdays and much more - based in Belgium!
ViaCorsa.com - The car traveler magazine
A car traveler magazine with car related articles like a Ferrari factory tour, roadtrips, interviews, museums, history and more
ChallengeStradale.co.uk - UK Ferrari 360CS website
UK Ferrari 360CS site with lots of info, resources, photos, members cars and much more
ClubStradale.com - CS owners & enthusiasts forum
The 360CS forum for chatting to other CS owners, technical questions, detailing and more
ClubScuderia.com - UK Ferrari enthusiasts club
The UK based Ferrari forum, general Ferrari talk and Club Scuderia meetings and track events
AussieExotics.com - Exotics forum in Australia
Australian forum for exotic and prestige cars enthusiasts, for sale sections and more


Other VIN registries:


GallardoSuperleggera.com - Superleggera VIN registry
First gen Lamborghini Gallardo Superleggera VIN registry made by my good friend Carlo. Same layout as challenge-stradale.com
458SpecialeRegistry.co.uk - A worldwide VIN registry
A worldwide Ferrari 458 Speciale and 458 Speciale Aperta VIN registry, with statistics and cars listed by country
Ferrari-register.nl - Dutch Ferrari and Lamborghini register
A dutch Ferrari and Lamborghini register by Marcel Wallenburg, here you can find all Ferrari and Lambo's by model in the Netherlands
The Ferrari 355 VIN registry
A worldwide Ferrari 355 VIN registry with more than 4500 cars, browse the registry by model year, GTB, GTS, Spider and more
The Ferrari 308 GTB register
This register is dedicated to the Ferrari 308 GTB vetroresina and steel versions, with tech tips, literature and much more
Ferrari 330 GT VIN registry
A worldwide VIN registry of all 1137 cars, with model history, for sale section, auction results, encyclopedia with pics and more
Ferrari 365 GTC/4 VIN registry
Website dedicated to strictly the Ferrari 365 GTC/4 model, VIN registry, historic and tech info and an owners discussion board
Ferrari 365 GTB/4 Daytona VIN registry
This website is dedicated to the Ferrari 365 GTB/4 Daytona with a VIN registry, detailed photos and message forum
Dino Italia - Worldwide Dino VIN register
A VIN registry dedicated to all Dino models, including the Fiat Dino's 2000 & 2400 and the Dino 206GT, 246GT and 246GTS
Ferrari340America.nl VIN register
Serialnumbers, car history, race results, historical photos & videos, specifications, building sheets, brochures and more


CS Instagram accounts:


Instagram @ChallengeStradales
Official Instagram account of www.Challenge-Stradale.com
Instagram @ChallengeStradalesWorldWide
Daily Challenge Stradale updates from all around the world!


Car photography websites:


Digi-Shape.nl - Dutch car photography
Professional wallpapers and photoshoots. Contact for personal photoshoot of your car. One of the best car photographers!
AdamVanNoort.nl - Dutch car photography
Adam specializes in exclusive car photography, shooting cars all over Europe including Paris, London and Monaco!